Cylinder
Comments
Log in with itch.io to leave a comment.
this game was very interesting
and the sounds from the cylinder were very eerie and entrancing, they echoed
Can't get past the rabbit puzzle. I know it has something to do with the ears, but even after reading the comments below, I still can't figure out the right order. I'm sure it's a lovely game, but I'm gonna have to walk away from this one.

My compliments to the artist, the drawings are very nice.
Here is the answer to the rabbit puzzle. This one seems to be difficult to almost everyone. We should have put it after the third one, which is way easier. :/ I hope you'll enjoy the game anyway if you want to give it another try. :-D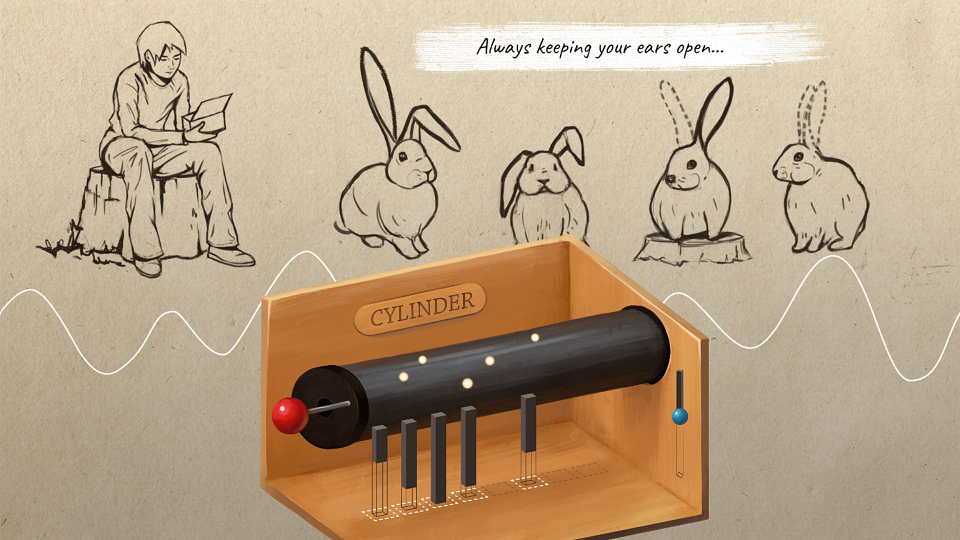 Thank you for the solution! May I ask how that was supposed to be interpretted? I understand it has something to do with the ears, but I'm not quite sure I follow the logic behind it.
You're actually supposed to take the example from the first level and use it for this one. In the first level, you can see a wave passing just under the black parts of the teeth, thus showing the height of the note. For this level, you have to imagine that a wave is passing through the picture and that the ears are the blank parts of the teeth.

But a picture should be better for understanding. :-D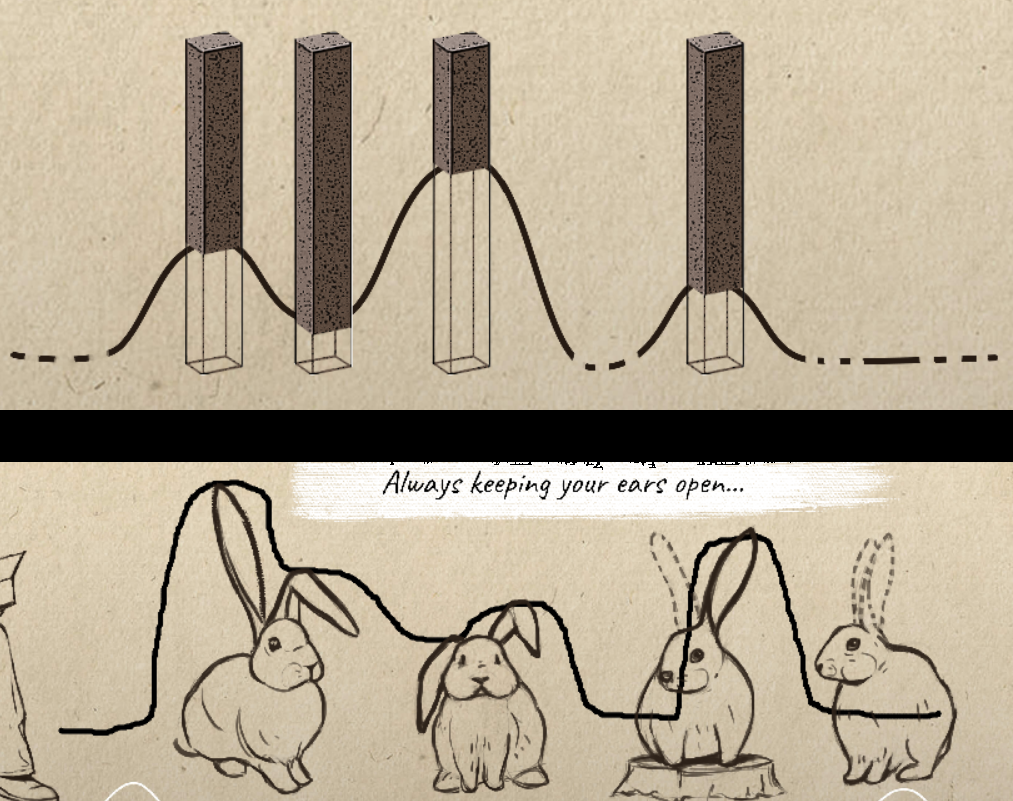 I've actually got through the whole game. The most confusing puzzle is actually the bunny section. The section right after that was as annoying, but the rules for that puzzle is much easier to catch onto. I... honestly, still find the second puzzle confusing even after knowing the solution.
Congrats for beating the game! The bunny section is actually the worst one. We tried to make everything easy to understand for the player, but it was quite a challenge. :/
I hope you still liked it. :-D
Well, taking time away from this for a good... apparently 13 days, yeah... I was able to understand the bunny puzzle. It definitely isn't clear to those that first encounters that puzzle... but it's a bit easier to understand a second time through. The height of the ears that stands up is also part of the puzzle, which during my first play through, yeah... didn't see that.
The bunny puzzle wasn't enough to make me not like the game. If anything, I applause you for making such a great puzzle game. Honestly, I haven't ran into this type of game for puzzle games, so yeah. It's more unique than some of the others I've played. I, honestly, hope that you continue on the creative game creation.
Yep, this puzzle was really annoying to almost everyone I think, while the following puzzles were much more easier... My bad for creating puzzles that are a bit far-fetched. xD

Thanks a lot for your compliments, it really makes me feel happy. :-3 The whole team should still continue to work on video games (maybe not together though), so feel free to follow our itch.io pages. :-P
I love the game and the music is very beautiful. But it was difficult for me to figure out how to solve the puzzle so I didn't finish the game but I loved it :)
Thanks a lot! :-D We had a lot of trouble finding out how to make the puzzles clear to the player, yet it is still not perfect. :/
Tip for you if you want to give it another try : you should check the transparent parts of the movable items. :-P
Very interesting game and such a beautiful melody. I found it very difficult to solve the puzzles and didn't finish the game since I couldn't figure them out but even though it was hard I did enjoy the game :D
I don't know if you've heard of Game Development World Championship before (gdwc2019) but it's a competition for indie game developers where they can submit their games and it's free! It's great if you want some more visibility for the game and it only takes a couple of minutes to join :)